Let's talk materials. I am personally addicted to soft, dreamy, beautiful fabrics and materials. Whether I am picking out the perfect pillow for my bed, choosing a soft, cozy blanket to cuddle up with, or even choosing out my favourite winter sweater, the first thing to do it pick the item up and feel the texture, quality and weight of the fabric. I also love the rainbow that is cast across my room when the light hits the crystal lamp on my bedside table. The beauty is in the details.
Have you ever been sitting in a room and all of a sudden the most magical rainbow is reflected across the room? If you have this is the work of something crystal in your space! Maybe I shouldn't say work because truly the work is put in even before you have this item. When looking at crystal versus glass here are a few things to consider:
There is just something about cotton that feels and is luxurious. Honestly when I think of cotton I automatically think of some of my favourite tops to wear particularly in the summer. Let's change this! Cotton is a fabulous material to use in the home. While polyester has its place, cotton and other high quality materials are something to get excited about!
One of the best parts of the day in my opinion is right after you get out of the shower and are feeling clean and relaxed after using luxurious products for you hair and skin. Why let it stop there? Exquisite Turkish cotton towels let the good time keep going. Head into Amanda's House of Elegance to feel the spa like material for yourself!
Beading is a simple way to add beauty and sparkle to any space. The delicate touch needed for a beaded product is proof of the quality and high end materials. Any beaded piece is sure to wow your guests.
Pillow - $147.95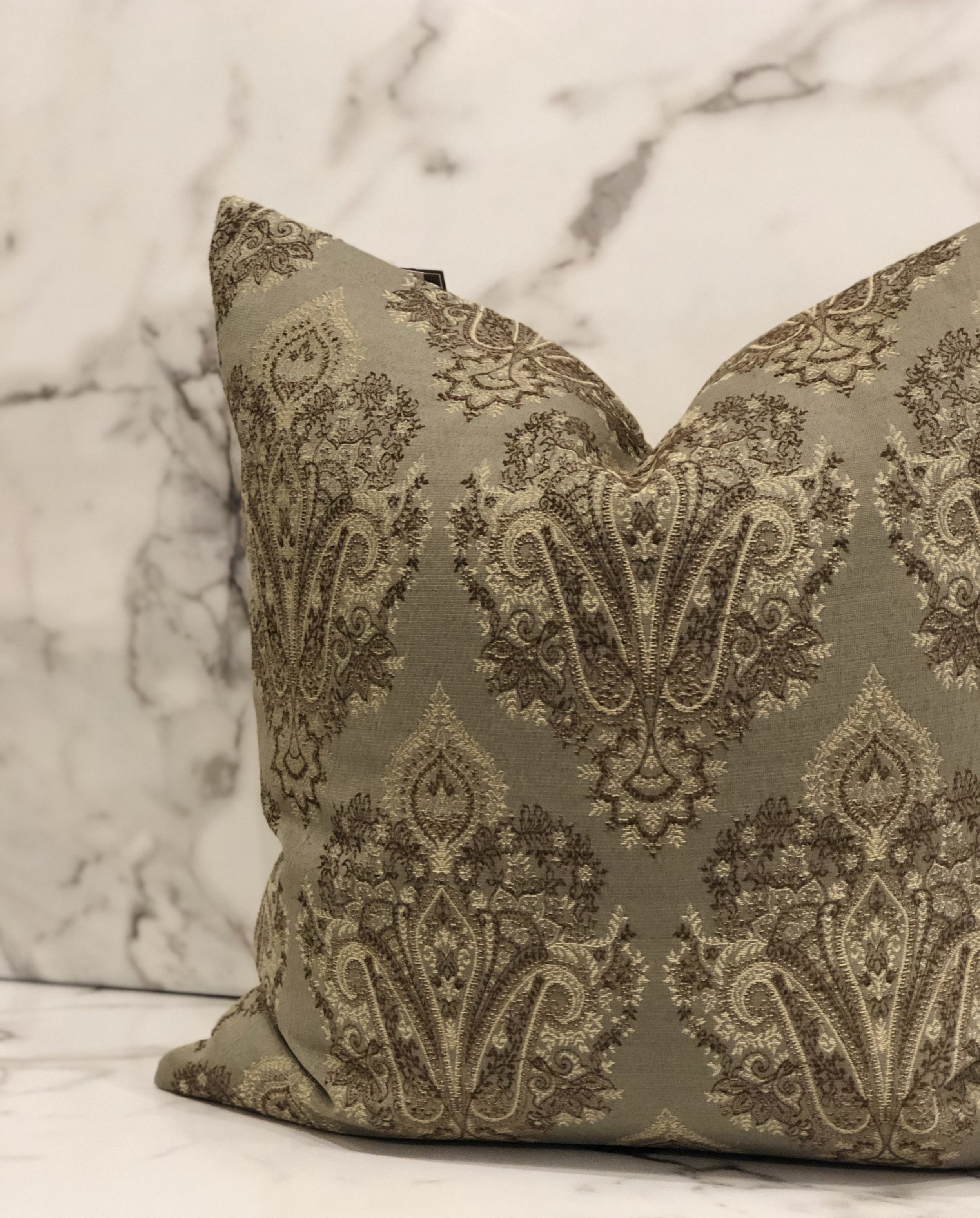 Embroidery is an art. It is completed by using a needle to thread yarn or string through another fabric. The results are breathtaking. Through embroidery you can get precise and detailed patterns and designs.
Pillow - $74.95
A pleat is a style staple and though it is a classic design, many modern products are putting pleats in a modern context. Pleats add interest and style to any fabric.
Pillow - $58.95
The defining feature of a velvet pillow or item is it's signature soft feeling and texture. Velvet is a woven, tufted fabric which often comes in vibrant and beautiful colours.
Pillow - $78.95
Pattern is a key feature of design that every room needs a little bit of. From florals, to chevron and all pattern in between you cannot go wrong with a couple of patterns pillows or throws.
This sort of seam is a beautiful finish to any fabric. Its rounded edge provides a very clean profile.
Pillow - $107.95
The French seam is a very common choice for higher quality and designer pillows. It is a stunning finishing that provides high impact because it adds length and fullness to the pillow itself. The French seam gives a particularly elegant profile.
Pillow - $76.95
The plain seam is also very commonly used on upholstery and pillows. It is a very simple and easy seam to accomplish and gives a clean profile to the material. This is also very common on removable pillow cases because it makes it easy to hide any zippers or fasteners.
Pillow - $94.95